Nia Coleman
Saturday, 20th December 2014
St Wilfrid's Church Haywards Heath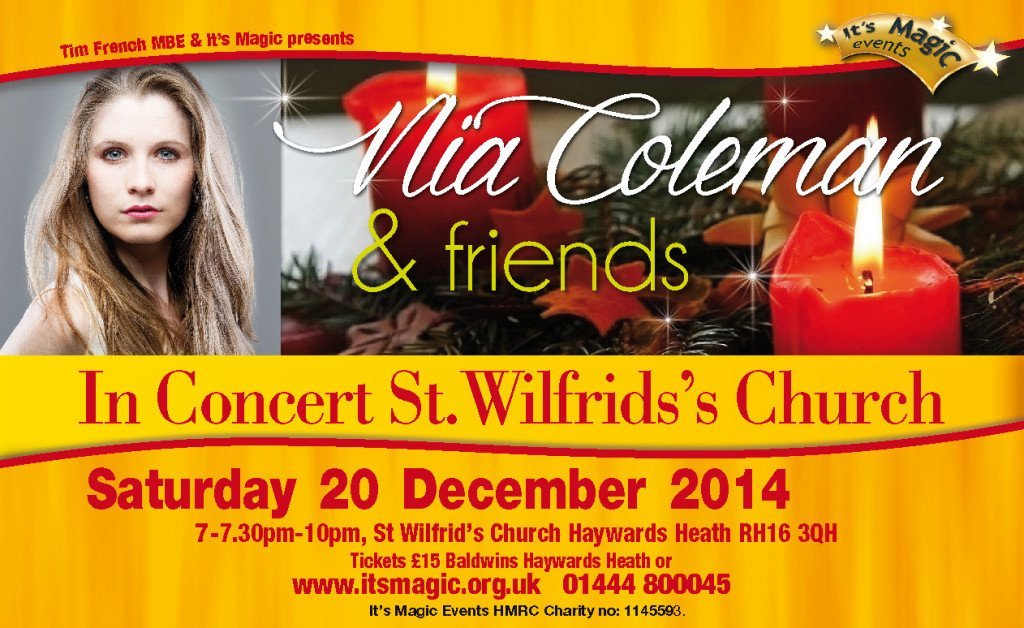 'Nia Coleman In Concert St Wilfrid's Church' will be joined by outstanding artists; Tenor Andrew Rees, Violinist Andrew Thurgood, Pianist Nancy Cooley, Mezzo-Soprano Flora Macdonald & Soprano Carys Coleman.  The magical evening  is a mixed programme with a Christmas feel of favourite arias from both the operatic and oratorio stage, sacred music, songs from the shows and carols for all to join in.
Go to https://www.itsmagic.org.uk/nia-coleman-friends-2/ to read press release
Tickets purchased online will be available to collect from 7pm at St Wilfrid's on the evening of the show.  Or purchase your ticket in person from Baldwins South Road Haywards Heath open 9am-5.30pm.  In addition tickets @ £15 each can be purchased on the door
Book Your Tickets
Bookings are closed for this event. Tickets can be purchased on the gate
Payments are processed securly by Paypal. We accept all major credit and debit cards, you do not need a Paypal account. Please note that your Paypal confirmation reference will be Go Purple Ltd
For phone bookings please ring our box office on 01444 800045 or alternatively view our Ticketing Outlets here
Venue
St Wilfrid's Church Haywards Heath
St Wilfrid's Way
Haywards Heath
West Sussex
RH16 3QH
St Wilfrid's Church is the historic parish church of Haywards Heath, which was opened in 1865, an ideal venue for this concert.