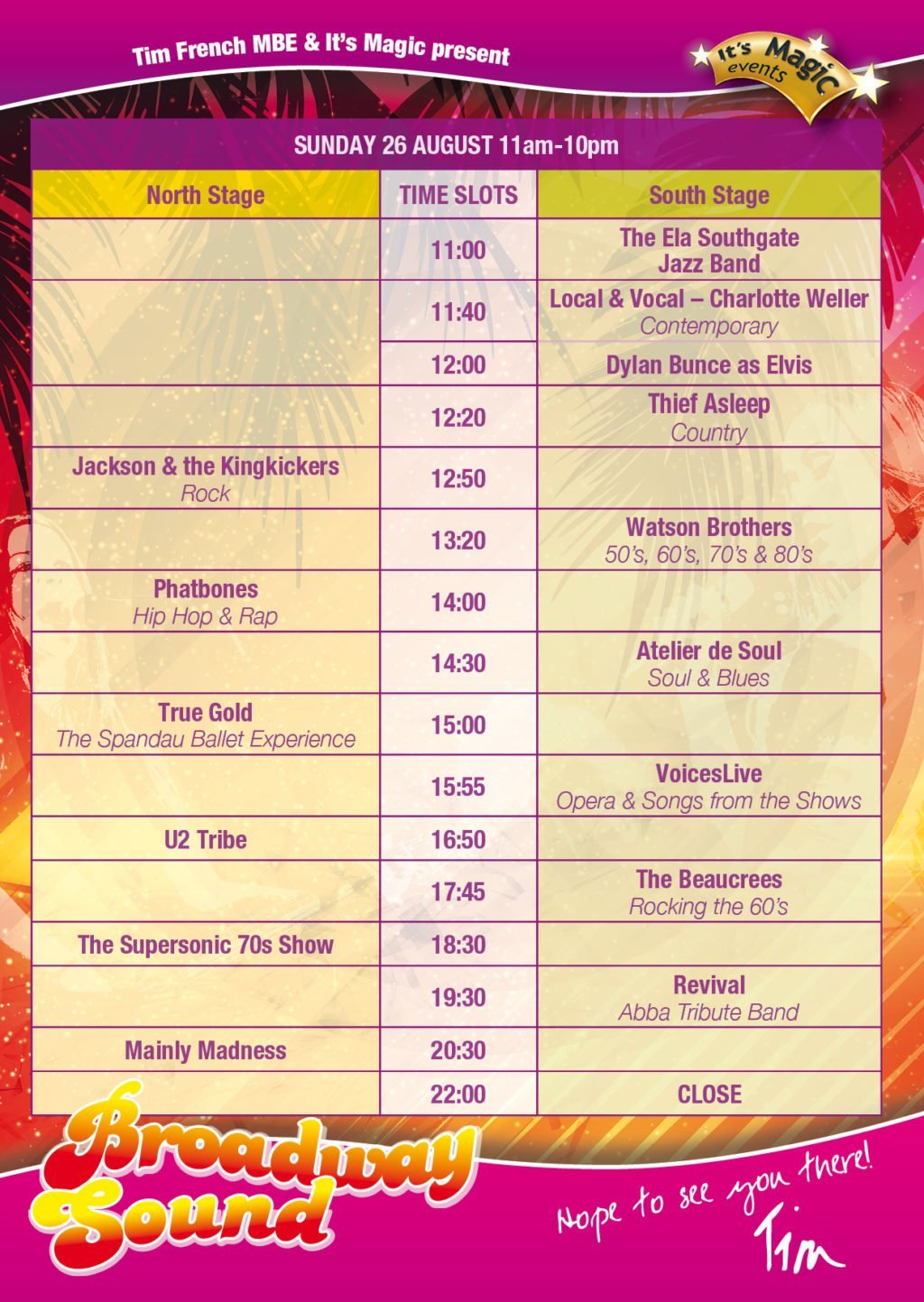 A Fest of Music Sunday 26TH August, 2018 11am 'til 10pm
An eclectic mixture of 15 different performers performing 140 different songs and pieces of music will entertain visitors to Broadway Sound on Bank Holiday Sunday 26th August, 2018 on The Broadway Haywards Heath.
It's an event for all the family – 11 years and under are free and there is lots to entertain them.  From balloon modelling, to learning Circus Skills from Jimmy the Juggling Jester.  Sit and watch one of the performances from puppeteer Katie Sommers with her show Dazzling Diamond.  A story about a dog that has a need and greed for all that glitters.   A lively tale of one greedy pup with music and puppetry.  Watch magic close up as an outstanding magician performs in front of you.  Or have your face painted.
For the music get out of bed and start the day slowly with The Ela Southgate Jazz Band especially if Jazz is you panache.  Ela is passionate about singing in a style true to the classic era of jazz and Brazilian bossa nova in the late 1950s, she aims to bring into her voice what she hears in the jazz greats of that era – inventiveness, playfulness, tone and emotional depth.
It's Magic always encourage local talent and this section called Live & Local does just that.  First is Charlotte Weller currently studying at the Urdang Academy, she will perform music from great female legends such as Adele, Dusty Springfield & Amy Winehouse. Plus her own original music.
Rocking onto the stage is Dylan Bunce as Elvis an extraordinary likeness of Elvis and just 4 years ago at the age of 14 he performed his first Elvis tribute.  Joining him will be members from Brighton Jive.
Sit back in the sunshine and enjoy a coffee listening to Thief Asleep a local band who will be performing a bit of Southern Rock, Blues & Country.
The North stage opens to Jackson & the Kingkickers, who bring an eclectic mix of folk, blues and rock influences. They effortlessly mix soaring female vocals with accordions, acoustic guitars, an emphatic rhythm section & punchy brass to boot.
The very popular Watson Brothers Duo, perform next.  They come from Eastbourne and play a selection of classic songs across the decades.  So something for everyone. From rock to pop and Jazz to Blues.
At 2pm Phatbones will push energy into The Broadway – the style of music is Hiphop and R&B.  His act is energetic and fun but he also likes to use music as a platform to educate and address the issues that matter. Phatbones and his supporting band members intend on pulling out all the stops to keep everyone entertained.
Cylvian Flynn local singer and song writer will be on stage next with her band Atelier de Soul.  Performing a mixture of Soul and Blues music across the country including, some from her favourite idol Aretha Franklin.
The afternoon begins to liven up at 3pm with our first tribute band of the day True Gold 'The Spandau Ballet Experience'.  True Gold are the 'official' Spandau Ballet tribute band having received praise from none other than Spandau's very own Gary Kemp, Steve Norman & Tony Hadley!
Take a break, especially for opera fans Bella Amici perform a gala of voices including scenes from well-loved operas; favourite arias and duets; and few of the best songs from those Broadway shows!
Then dancing starts with U2 Tribe.   Based in South East England, formed in 2010,  U2 Tribe replicate the sound, energy, look and feel of arguably the biggest, the most successful and probably the best band in the world.
If you love '60s music and want to hear the real thing, then The Beaucrees are the band for you. Since re-forming in 2012 after a break of 30 years the band has been performing at sell-out gigs around London and the M25. Five of the six band members are from the original '60s line-up when  played support to acts like The Hollies, The Foremost, The Fortunes, Lulu and The Barron Knights.
The band plays good old rock 'n roll favourites and the everlasting pop hits from the '60s plus some of the best from later years.
Next The Supersonic 70s Show will take you down memory lane with some of the biggest classic hits from the 70s!  Led by the 'Catsuit Wonder Girl', vocalist Janey Bombshell, this all live band delivers a power packed spectacle that will have you dancing in the street to all those hits from this golden age of pop.
From the towering might of Queen, Fleetwood Mac and ELO, through the 'pin-up pop' of David Cassidy, David Essex and Donny Osmond, whilst foot stompin' to the sounds of Sweet, T. Rex, Mud and Suzi Quatro, you won't have time to catch your breath!  Join us for a glorious rollercoaster ride of 70s nostalgia.
As twilight arrives, the fabulous music and magical vocals of the Swedish supergroup are now presented as never before, in a professional live production that provides tasteful quality entertainment for all ages.
Revival deliver.  Each song building on the last, swelling the dancefloor. When its all over they never fail to leave the crowd shouting for more. Abba Revival will provide an experience that you'll never forget!
Using live instruments, full choreography, spectacular costumes and epic performance, Revival are without a doubt the best ABBA tribute band to emerge from the UK.  A truly ABBA experience.
Once in a while a band comes along that has the ability to capture, captivate and tell fantastic stories through song. Madness is one of these bands. For over 30 years they have been entertaining us and providing the soundtrack to many memorable and special times.
Mainly Madness are a group of Two Tone loving musicians that will bring the Madness experience to The Broadway. Not only are Mainly Madness a tribute to the great band itself but also a celebration of Two Tone and Ska, which include such inspirational bands as The Specials, Bad Manners and The Beat to name a few. This fantastic genre of music manages to make you smile and stomp your feet to the rock steady beat. Whether male, female, young or old, Mainly Madness will leave you wanting more.
But Hey You, don't take my word for it, come and check us out for yourself! Prepare yourselves for the carnival, which is Broadway Sound..
Venue:  The Broadway, Haywards Heath, W Sussex    RH16 3AS
TICKETS: Adult – £10 (£15 on the day); Child FREE (11 & under) Book your tickets online www.itsmagic.org.uk or in person from:  Broadbridges, Sussex Road, Fun Bags Party Shop, Fine Baps, Orange Square, Savannah, La Campana & Idle Wild The Broadway, Haywards Heath