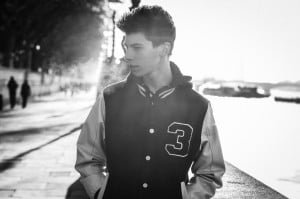 16-year-old James Graham is Pete Waterman's latest discovery. Born in Chelmsford, Essex, James has two passions in life: singing and football and has spent the past few years trying to decide which to pursue. Football's loss is music's gain!
James made his stage debut at the age of 12, appearing at the Essex Youth Spectacular at the Cliffs Pavilion, Southend-On-Sea. Less than a year ago, he entered his first talent competition and walked away with the prize. Confidence boosted, James then won Chelmsford's Got Talent too. James' performance at a third contest not only made it a hat trick, but so impressed one of the judges, Karl Twigg of PWL, that James was immediately invited to sing for Pete Waterman. Two months later, James was signed and hard at work recording his first tracks at Pete's famous London studios.
By the end of the year, James had not only supported Steps at Rochester Castle, made his London debut on the terrace of County Hall, and appeared on a star-studded bill featuring Team GB medallists and X Factor winners Little Mix for the Blackpool Illuminations Switch On, but to top it all off, also brought the house down at Pete's Hit Factory Live spectacular at the O2. Singing the classic Love's About To Change My Heart as a special tribute to Donna Summer as well as a brand new song, James was thrilled to be part of a show that will go down in pop history and a once-in-a-lifetime line-up of PWL artists including Kylie Minogue, Jason Donovan, Bananarama, Rick Astley, Sinitta and Steps. How's he going to top that in 2013…?
There can be few people – of any age – who would stand up in an office, in front of people they had never met before and sing like James did the first time we ever met. Unassuming and hugely talented – that's James Graham. Enjoy him!
 Pete Waterman